Holidays in Racines – A vacation in the former mining community
The former mining community of Racines extends beyond the Val Giovo, the Val Racines and the Val Ridanna at altitudes that range between 950 to 1500 meters. You may discover the long tradition of mining in the South Tyrolean holiday region during your vacation in Racines by visiting the mining museum Ridanna/Monteneve. For many centuries, lead, silver and zinc were mined in the excavations. Here, 800 years of mining history come alive. At an altitude of 1400-2700 meters above sea level, tours and sightseeing visits take place under expert guidance.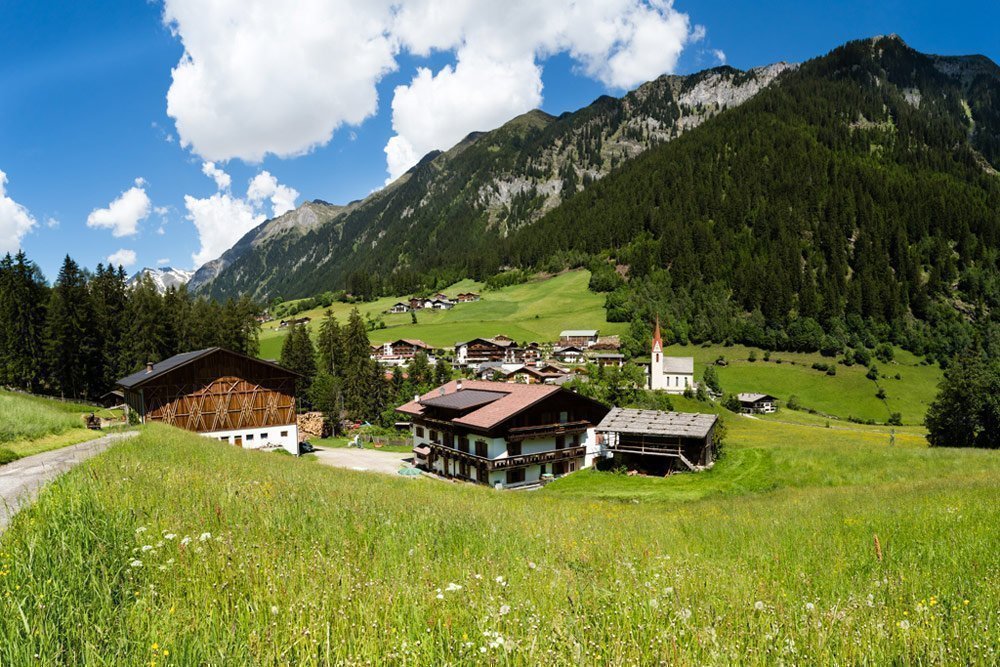 Hiking paradises in the surroundings of Racines
The splendid hiking and climbing areas in the holiday region invite you to spend a nature holiday in Racines. The majestic peaks of the Stubai Alps frame the Val Ridanna and the Val Giovo. An extensive network of hiking trails, climbing paths and mountain biking itineraries, criss-crosses the pristine mountain range. A fascinating natural wonder awaits you here: the Gorge Gilfenklamm. Since more than 100 years, it is also called the "Kaiser-Franz-Joseph-Gorge". Its worldwide uniqueness lies in the fact that this gorge is made of pure white marble. On well-secured platforms, you may explore all the beauty and fascination of the gorge. A number of waterfalls pours down the valley between high rock walls. Close to the farm Reaserhof, the Barefoot Trail offers another worthwhile destination.
Famous attractions in Racines
Medieval castles and palaces create the historical backdrop to your summer excursions during your holidays in Racines. The Castle of Wolfsthurn counts as one of the finest medieval buildings in South Tyrol. Today, the castle is home to the Hunting and Fishing Museum. During a guided tour, you may discover the aristocratic life in the 18th and 19th century as part of the popular culture. A cultural-historical tour of the original staterooms of the castle displays the habits and customs of the time. On three floors and in three exhibition areas, the details are displayed graphically by way of numerous exhibits. Furthermore, the ruins of Castle Reiffenegg and the Castle of Sprechenstein are well worth visiting. An artistic and historical gem of national importance is the chapel Knappenkapelle S. Maddalena in Val Ridanna. The sacred building was established in 1480 by the Monteneve miners in late-gothic style and is picturesquely situated on the Magdalene Hill.